LATEST NEWS
Justin Ruiz joins Planet Turf team
December 14, 2017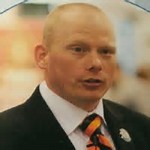 Justin Ruiz, the superintendent at The Golf Club at Hawks Prairie in Lacey, has been named a regional turfgrass sales specialist for Planet Turf.
Ruiz, 39, will be based in Western Washington and will serve customers in Washington, Alaska, Oregon and Canada for Planet Turf, the Spokane-based firm that is the exclusive supplier of United Turf Alliance.
Ruiz graduated from Oregon State University with a bachelor's degree in horticulture and turf, and received his master's degree in agriculture from Washington State University. He has more than 14 years of experience as a golf course superintendent and has served as a speaker at numerous industry association conferences. He is a former Board member of the Western Washington Golf Course Superintendents Association.
"Justin's experience and education give him the skills and knowledge needed to serve our customers at the highest level," said Jim Connolly, the president of Planet Turf. "We are fortunate to have Justin join the Planet Turf team."
Planet Turf provides solutions to turfgrass and ornamental management challenges by providing innovative products combined with scientific testing and continual monitoring of plant and soil health. More information is available at planetturfusa.com.
Report from Chapter Delegates Meeting
November 14, 2017
Sean Reehoorn, the superintendent at Aldarra Golf Club and the vice-president of the Western Washington Golf Course Superintendents Association, recently attended his first GCSAA Delegates Meeting back at GCSAA headquarters.
Click here for his report that includes updates and information on GCSAA endeavors such as BMPs, membership drive, government advocacy, Grass Roots Ambassadors, Round 4 Research, certification programs and by-laws and Code of Ethics revisions.
WALP to hold conference in Olympia
November 25, 2017

The annual conference of the Washington Association of Professional Landscapers is set for Jan. 19-20 at the Hotel RL in Olympia.
The theme of the Northwest landscape industry conference will be "Strengthening Our Roots"
The conference will continue to offer contractor-focused learning opportunities as well as introduce attendees to new speakers and sessions focused on growing their business and making a difference as landscape professionals.
More information and registration for the conference is available by clicking here.
Tacoma C&GC claims nw crew playoff
October 10, 2017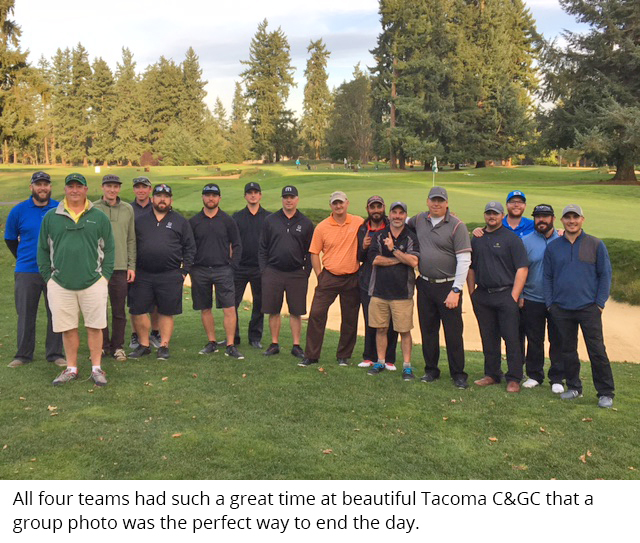 With both teams shooting a 15-under-par 57, it went to a scorecard tiebreaker before Tacoma Country & Golf Club edged Heron Lake Golf Club of Portland for the Northwest Crew Playoff title.
In action Monday during a beautiful day at Tacoma C&GC, the competition was decided in the hosts' favor because of their birdie on the No. 1 handicap hole, the 429-yard, par-4 eighth. Heron Lakes made par on the hole.
Coming in third was Portland Golf Club with a 14-under 58 on the 6,348-yard, par-72 layout and Suncadia Resort was fourth at 59.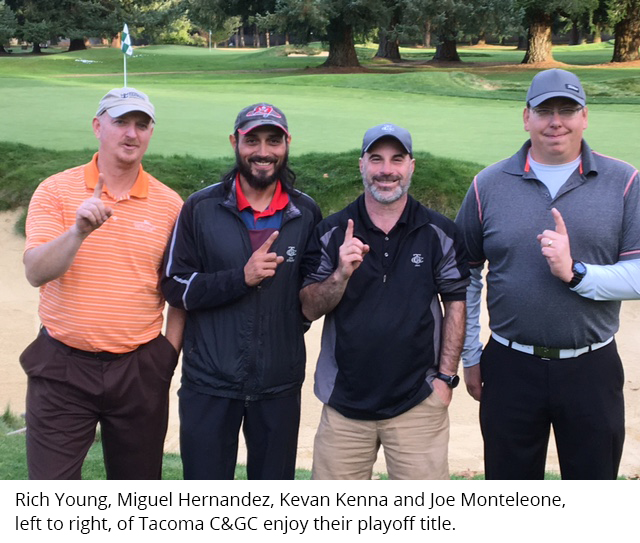 Tacoma C&GC had 13 birdies and one eagle on the day. The eagle came on the 328-yard, par-4 14th hole where Rich Young drove it to 15 feet and Miguel Hernandez sank the putt. The other members of the Tacoma team were Kevan Keena and Joe Monteleone.
Heron Lakes had 11 birdies and two eagles. The eagles came on the 479-yard, par 5 16th hole where John Dean made the 10-foot putt and on the 500-yard, par-5 18th hole where Dean made a 30-footer. The other members of the Heron Lakes team were Mike Hansen, John Hatala and James Brewer.
The Western Washington GCSA and the Oregon GCSA would like to thank Tacoma C&GC, its members and its superintendent, Joel Kachmarek, for allowing the playoff to be held on their glorious golf course.
 WWGCSA member featured in article
Amos Stephens, a member of the WWGCSA and the general manager/superintendent at Settlers Bay Golf Course, was featured in an article by the Frontiersman newspaper in Wasilla, Alaska.
The article discusses all the attractions the golf course in Wasilla has included to increase business.
Click here to read the article.
WWGCSA to help with disaster relief
September 26, 2017
On behalf of all of its members, the Board of Directors of the Western Washington Golf Course Superintendents Association has approved a $1,000 donation to the GCSAA Disaster Relief Fund to help with aid for those impacted by recent hurricanes in Texas, Louisiana, Florida and Puerto Rico.
"We feel it's our duty, as well as a privilege, to be able to help our colleagues in need," said Scott Phelps, the president of the WWGCSA and the superintendent at The Golf Club at Newcastle. "The impact of these recent storms is beyond our comprehension. A lot of our friends and their families have had to suffer great consequences. Even those who didn't suffer great personal tragedies still face professional headaches and hassles we can't imagine. The least we can do is offer this helping hand."
The GCSAA Disaster Relief Fund is administered through GCSAA's philanthropic arm, the Environment Institute for Golf, which is assuring that 100 percent of the donation is going to impacted GCSAA members.
If you would like to make an individual donation, which could be tax deductible, you can do so by following clicking here.
WWGCSA Board elects its officers
September 18, 2017
The Board of Directors of the Western Washington Golf Course Superintendents Association, at a recent meeting at Willows Run Golf Complex in Redmond, elected officers for the coming year.
Sean Reehoorn, the superintendent at Aldarra Golf Club, was elected vice-president during the meeting, and Ryan Semritc of Willows Run was elected Secretary/Treasurer.
Scott Phelps, from The Golf Club at Newcastle, was elected president by the membership at the annual meeting last month.
Click here for the complete listing of the Board of Directors.
Chairmanships of two key committees were set during the recent Board meeting. Clint Goold of Druids Glen Golf Club will head up the Golf Committee while Jason Krogman of Kitsap Golf & Country Club will oversee the Education Committee.
Phelps re-elected President of WWGCSA
August 15, 2017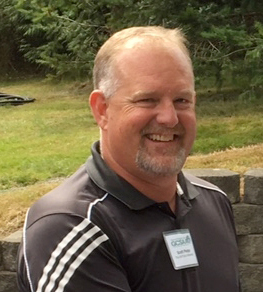 Scott Phelps, the superintendent at The Golf Club at Newcastle near Bellevue, was re-elected president of the Western Washington Golf Course Superintendents Association during its annual meeting Monday at Aldarra Golf Club.
Phelps has been at Newcastle since 2008, and before that served as Director of Grounds at Teton Valley Golf Associates in Victor, Idaho, and Senior Golf Course Superintendent at Arrowhead Golf Club in Littleton, Colo. He earned a degree in landscape horticulture with an emphasis in turfgrass management from Colorado State University.
Elected to the Board of Directors in the meeting Monday were Clint Goold of Druids Glen Golf Club in Covington and Jason Krogman of Kitsap Golf & Country Club in Bremerton.
Jason Otto of Planet Turf was elected to the affiliates' position on the Board of Director.
Coming off the Board will be Greg Matz of Inglewood Golf Club and Josh Heersink of WinField Solutions.
Also voted on was a by-laws revision, which passed. Click here to see the revisions that will now go into effect.
During the annual meeting, an annual report of the association was presented. You can read that report by clicking here.