Registration Open for NTA Conference
The registration process has begun for the 69th annual conference of the Northwest Turfgrass Association, set this year for Oct. 4-6 at the famed Coeur d'Alene Resort in Idaho.
Dr. Karl Danneberger from The Ohio State University will be the featured speaker, and will give presentations on shade issues and disease control.
The conference will continue with its recent tradition of a welcoming golf outing on Sunday afternoon at the resort course, followed by a dinner reception. Educational sessions will be held Monday and Tuesday mornings. A second golf outing will be held Monday afternoon, this one at Hayden Lake Country Club with another dinner reception Monday evening back at the resort.
Click here for the online registration page.
The complete registration package is $490 with a no-golf package offered at $345, but accommodations are not included in the registration package.
There are various accommodation opportunities at the Coeur d'Alene Resort, so attendees are requested to call 1-855-737-8279 to make your selection. The NTA has secured reduced room rates ($119 for North Wing; $159 for Park Tower; $189 for Lake Tower) and the NTA can assist attendees looking for a roommate to help reduce costs.
More information is available by contacting Paul Ramsdell, the executive director of the NTA, at mpsparks90@aol.com or 253-219-8360.
A breakdown of sponsorship opportunities is available by clicking here, and Paul can assist with more information as well.
Hope to see everyone this fall at Coeur d'Alene.
North Shore Claims Crew Tournament
With 14 birdies and an eagle on its way to a 15-under 57, North Shore Golf Course claimed the 2015 Crew Tournament at White Horse Golf Club in Kingston.
Click here for complete results from the 33 teams.
North Shore, from Tacoma, edged out Tacoma Country & Golf Club I by a stroke on the 6,176-yard, par-72 White Horse course. North Shore, made up of David Proulx, Sean Holm, Max Malthesen and Sam Malthesen, had an eagle 3 on the 480-yard, par-5 third hole.
Tacoma C&GC I, made up of Miguel Hernandez, Joe Monteleone, Richard Young and Kevan Kenna, actually had two eagles, but couldn't keep up with the birdie barrage from North Shore. Tacoma C&GC eagled the third hole, as did North Shore, and also had an eagle 2 on the 290-yard, par-4 11th hole.
North Shore and Tacoma C&GC now will represent the Western Washington Golf Course Superintendents Association in the annual playoff against the top two teams from Oregon. The competition will be held in October with North Shore having first shot at being the host.
White Horse took low net honors on its home course, firing a 66 with a 21 handicap for a net 45. That team was made up of Carl Fleischmann, Mateo Romero, Darran Harwell and Aaron Milius.
Kelly Hanchel of Everett G&CC and Hayden Doscher nailed down the closest to the pin competitions while Alex Dredge of The Plateau Club and Matt Huft of Foster were the long drive winners.
Fun Photos of U.S. Open Volunteers
Dave Phipps, the Northwest Field Representative for the GCSAA, was among the volunteers at the U.S. Open, helping the grounds crew prepare Chambers Bay each day.
He also kept busy taking plenty of photos.
He wants to share those photos, so follow this link and see if David caught you while you were helping put on arguably the greatest golf tournament of the year in the world:
https://www.flickr.com/gp/133457771@N08/7XQMY8
Eric Johnson, the Director of Agronomy at Chambers Bay, and Josh Lewis, the Superintendent, led the charge when the world's best golfers came to visit in June. Other members of their staff who are members of the WWGCSA are Jerry Holcomb and Jason Korgman.
The following WWGCSA members were part of the volunteer crew:

Jacob Close, Sudden Valley G&CC, WWGCSA Presiden
Steve Link, Skagit G&CC, WWGCSA Past President
Shane Riley, WinField Solutions, WWGCSA Board member
Tony Bubenas, Pierce County Golf
John Ford, Eagles Pride
Larry Glaser, Jefferson Park
Tom Huesgen, Sahalee CC
Thaddeus Lalley, Everett G&CC
Scott McBeath, Lake Padden
Bob Proctor, North Shore
Andy Soden, Fircrest
Sam Sprague, Rainier G&CC
Dr. Gwen Stahnke, Walla Walla Community College
Richard Strautman, Floratine NW
Carl Taylor, Western Equipment
Mike White, Floratine NW
Kyle Young, Glendale CC

NTA Donates $61,000 to Research
The Board of Directors of the Northwest Turfgrass Association has voted to donate $61,000 to various turfgrass research and education projects in the Northwest, more than double what was awarded in 2014.
Every member of the Western Washington Golf Course Superintendents Association is automatically a member of the NTA with a portion of your WWGCSA dues going to the NTA.
The NTA grants will be spread out over five different research and education programs in the Northwest.
For 2015, the NTA Board of Directors has awarded the following research and education grants:
Exploration for Fungicide Alternative and Fungicides Mitigation
Oregon State University • $40,000
Compost Application on Golf Course Fairways
Washington State University – Puyallup • $10,000
First Green Links as Labs
First Green Foundation • $5,000
Cost and Playability Analysis of Synthetic and Natural Grass Athletic Fields
Oregon State University • $5,000
Bill Griffith Turfgrass Management Scholarship
Walla Walla Community College • $1,000
The $61,000 is the highest single-year amount awarded in quite some time for the NTA, surpassing the nearly $48,000 in 2013.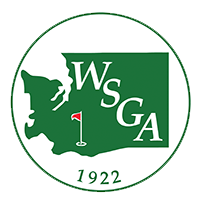 The NTA receives many generous donations that make these turfgrass grants possible. Leading the way is the Washington State Golf Association, which donates roughly $16,500 every year. Numerous private clubs, including Sahalee, Sand Point, Everett Golf & Country Club, Glendale and others, also make annual contributions to the NTA's Turf Universities Research Fund. From the recent Fivesome Tournament and Auction conducted by the WWGCSA, a contribution of $7,450 will be made to the fund.
More information and assistance in having a club or course donate directly to the NTA is available by contacting Paul Ramsdell, the Executive Director of the NTA, at mpsparks90@aol.com or 253-219-8360.
Overlake Grabs Fivesome Title
Overlake Golf & Country Club had birdies on 12 of its final 13 holes to claim the Club Team title at the annual Fivesome Tournament/Auction conducted by the Western Washington Golf Course Superintendents Association.
On a warm, sunny day at beautiful Seattle Golf Club, the Overlake team had 14 birdies in all for a gross 58, and with a 6 handicap it took top honors with a 52.
Click here for complete results.
Superintendent Cory Brown led the team and was joined by OG&CC President Walter Euyang, Green Committee Chair Mark Hagerty, GM Marcus King, and Adam Rogers, the assistant pro.
Overlake also took the Closest to the Pin contest on the fifth hole when Rogers put it 9 feet, 8 inches away.
In all, 19 club teams and nine industry teams enjoyed the festivities and hospitality of Seattle Golf Club. Both the silent auction and live auction afterward were a success. In just the Raise Your Card portion of the auction alone, there was $7,350 raised for the Turf Universities Research Fund, which is more than $2,000 above anything seen in the past decade.
Industry Team No. 2 of Eric Thompson of Simplot Partners, Willis Self of VGM Club and David Burger of Stewardship Partners won its division with a net 52 as well.
The WWGCSA wants to thank Pacific Golf & Turf for sponsoring the drink tickets and making the event a huge success, along with all the tournament sponsors, tee box sponsors and all those who donated items for the auction, or were winning bidders in the auction.
New Site, New Dates for WTLS
The Board of Directors of the Western Washington Golf Course Superintendents Association is happy to announce a new site and new dates for the 2015 version of the Washington Turf and Landscape Show.
In 2015, the event will move to the Lynnwood Convention Center, and will be held on Tuesday-Wednesday-Thursday, Dec. 8-9-10.
The facility at Lynnwood is conveniently located right next to Interstate 5 and offers a perfect combination of classrooms to facilitate the numerous educational sessions of the WTLS. And there is plenty of ample parking right at the location, which should eliminate numerous headaches of past editions of the WTLS.
Also, the Lynnwood Convention Center offers the WWGCSA the chance to set consistent dates year after year and the WWGCSA is looking to settle into a routine of the Tuesday-Wednesday-Thursday of the first full week of December.
Paul Ramsdell, the Executive Director of the WWGCSA, is available for any questions or concerns regarding this move. He is available at mpsparks90@aol.com or 253-219-8360.
Time to Support American Lakes Veterans
Thanks to the leadership of Western Equipment and TORO, we now have a more realistic way to help our friends at the American Lake Veterans Golf Course.
Through Western Equipment and TORO, a GR TriFlex 3320 mower has been rebuilt and is available once we raise $12,000 in donations.
This significantly improves our odds for success compared to when we were trying to raise $33,000 for a brand new mower.
You can visit gofundme.com to learn more about the needs at American Lake and the campaign to help.
You can also click here for more information on a flyer put together by Shawn Frisbee of Western Equipment.
With the understanding that our Veterans and wounded warriors deserve a better golf experience, Shawn and the Western Washington Golf Course Superintendents Association (WWGCSA) have undertaken a fund-raising campaign to purchase this mower, which will virtually eliminate the possibility of any further catastrophic leaks and provide a putting service that would be the envy of any championship golf course. It's the very least we can do to help our returning service members heal and get back on the road to recovery.
The WWGCSA started the process with $20 from everyone's registration fee at the Annual Meeting going toward the project. We were able to raise $660 that day at White Horse Golf Club.
So, visit the Go Fund Me link above, or if you have questions you can contact Shawn Frisbee at shawn.frisbee@western-equip.com or Paul Ramsdell, the executive director of the WWGCSA, at mpsparks90@aol.com or 253-219-8360.
WWGCSA Member Directory Complete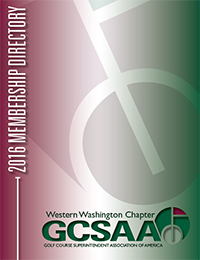 The all-encompassing membership directory of the Western Washington Golf Course Association is now complete and available to members of the WWGCSA.
The directory will be password protected and is only for the use of WWGCSA members. In order to protect the value of membership in the WWGCSA, please refrain from passing along the password on any form of social media.
The roster now includes retired members, honorary members and educators. Again, if any of your contact information needs to be updated, please contact Paul Ramsdell, the executive director of the WWGCSA, at mpsparks90@aol.com or 253-219-8360 with any changes. Also, we're missing a few phone numbers or email addresses, so please contact Paul if you have that information.
To access the directory, you will need a username and password. You can obtain that information by contacting Paul (mpsparks90@aol.com or 253-219-8360). This directory is for members only, and only members will be given the password.
You can click here to be taken to the directory at this time.
On the website, it will be permanently located under the "About the WWGCSA" tab.
Again, please contact Paul Ramsdell (mpsparks90@aol.com or 253-219-8360) with any questions.
Eliminating POA Research Available
Washington State University's Dr. William Johnston, with assistance from Charles Golob, has produced a research paper regarding eliminating poa annua from fairways.
Click here to read, "Efficacy of 'Tenacity' in Late Spring to Eliminate Poa annua in Kentucky Bluegrass Fairways."
Jim Myers Reports on Delegates Meeting
Jim Myers, the superintendent at The Plateau Club in Sammamish, was the representative of the Western Washington Golf Course Superintendents Association at the GCSAA Chapter Delegates Meeting, held recently at GCSAA headquarters in Lawrence, Kansas.
Proposals from the Membership Standards Advisory Group dominated much of the discussion.
Click here to read Jim's complete report.
Target Products Offers Match to Ravensdale Bunker Sand
While the Western Washington source for the popular Ravensdale tan bunker sand might have dried up, golf course superintendents in this area don't have to look far to find a first-rate replacement.
Target Products out of Abbotsford, B.C., has tested both its Baja tan and Bimini tan bunker sands and both have been found to be excellent replacements and additions for Ravensdale tan sand, either during normal maintenance of bunkers, or in any major bunker projects.
Target Products, which is being represented by Scott "Sandman" Mitchell (604-614-7875 or SMitchell@TargetProducts.com) , has been a full-service supplier of golf course sand in British Columbia and beyond since 1984. Its staff of agronomists, engineers, chemists and field technicians have been providing quality blending services to dozens of golf courses, including Bear Mountain in Victoria, Blackhawk in Edmonton and Turtle Bay in Hawaii. And USGA specifications are guaranteed for Target Products bunker sands.
Target Products used two different firms—Hummel & Co., out of Trumansburg, N.Y., and ISTRC New Mix Lab out of Lenexa, Kan.—to do tests to determine the compatibility of its Baja and Bimini sands to the Ravensdale tan bunker sand.
The moisture content was found to be less with either the Baja or the Bimini as compared to the Ravensdale sand and particle shape and size parameters were classify as the same.
"The penetrometer tests that measure resistance to golf ball burying in four conditions were very similar among the Ravensdale sand, straight, and the two mixes. The color was the color of the Ravensdale," said the report out of ISTRC in Kansas.
"Based on the test results the mixes should play like the Ravensdale sand, straight," the report continued.
The test results from Hummel had this to say about the Baja sand from Target Products, "The sample was clean in that there was little slit and clay present. As a result, there was little crusting of the sand after wetting and drying. This means that bunkers with this sand in place may not require raking after rainfall or irrigation events."
The Hummel test also said the Baja sand had a penetrometer reading "suggesting a low tendency to bury the ball."
These tests indicate that both the Baja sand and the Bimini sand both blend well with Ravensdale sand and can serve as replacement sand to Ravensdale with little or no impact on playability and/or notice from the golfers.
Complete test results are available through Scott Mitchell, or contact Scott with any questions about these tan bunker sands from Harrison Lake, the largest lake in the southern Coast Mountains of British Columbia.
OSU Offers Video Research Update
Turfgrass researchers Dr. Alec Kowalewski and Clint Mattox at Oregon State University have put together a research update with the help of the OSU extension office.
Follow this link to watch, "The Long Game: Reducing Pesticides on Golf Courses" on youtube.com.